A good start to the day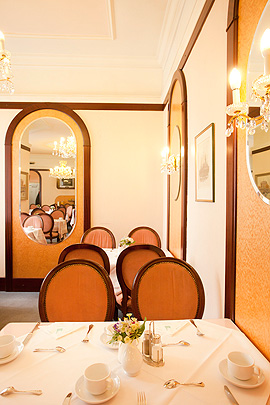 Exploring a city is exhausting. Fortified by a hearty breakfast you are able to set out on the tour through wonderful Vienna!
Our substantial breakfast buffet awaits you with the smell of fresh coffee and crusty buns, which will get you out of your room.
Breakfast is served between 6:30 am and 10:00 am.
In the charming breakfast room you are able to take the most important meal of the day. Our staff will be happy to serve you coffee, tea or hot chocolate. Enjoy the cosy ambiance with our crystal chandeliers in the breakfast room.
The breakfast buffet provides
Fresh pastry (buns, Kornspitz, whole-grain bread,…)
Toast
Assorted cold cuts and cheese
Fruit juices
Butter, margarine
Meat paste, cheese paste
Several spreads, some are vegan
Nut-nougat-crème, honey, delicious jams
Yoghurt
Muesli, cornflakes
Fresh seasonal fruits
Tasty cakes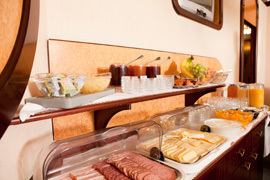 Sundays we are pleased to serve you a champagne breakfast, which allows you to start the day with a special treat.
Reception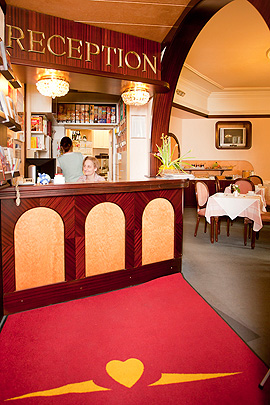 Our reception is located on the second floor and staffed 24/7 by an experienced and dynamic team.
We will be happy to inform you about all sights and current events, provide you with general Vienna-information and take care of all your questions, wishes and needs.
We will gladly organize concert or theatre tickets for you, book you a sightseeing tour or arrange a babysitter.
If you want to get up early, we will give you a friendly wakeup call.
Your stay from A to Z
Reception is staffed 24/7
Check-In from 2:00 pm
Check-Out until 11.00 am
Free luggage holding on arrival and departure
External Car-Park (with costs)
Public parking spaces (with costs due to short-term parking zone)
Breakfast from 06:30 am to 10:00 am
Hotel bar is open 24 hours
Free high speed internet (Wi-Fi)
Concert-, theatre- and other tickets
Wake up call
Babysitter
Dry-cleaning
Payment options: Cash, VISA, Master Card, American Express, Diners Club, JCB and Maestro Cards, Debit cards