Information about Vienna
Vienna is always worth a visit!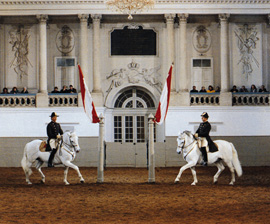 In this history-charged city, everyone will get their money's worth. Art interested, shopping addicted or gourmets – your time in Vienna will be unforgettable! There's much to see and explore, St. Stephen's Cathedral, the former imperial palace "Hofburg", Schönbrunn Palace, numerous museums and wonderful Palais at Ringstraße make Vienna a distinctive place on its own.
Bild: ©Wien Tourismus / Spanische Hofreitschule / Herbert Graf
A (time) travel to Vienna
The gorgeous buildings in the city centre are the witnesses of the former imperial capital and seat of royal power. Retrace the steps of Wolfgang Amadeus Mozart, Johann Strauss, Emperor Franz Josef and Empress Elisabeth (lovingly called Sissi) –You will have the feeling in Vienna, you could meet them at any time.
Vienna will elate you with its currents stars, like the Vienna's Boys Choir, the Vienna States Opera Ballet, the Vienna Philharmonics or the beautiful Lipizzaner horses at the Spanish Riding School.