Viennese hospitality in a central location
Our small bed and breakfast lies in the heart of Vienna in a reduced-traffic area in the city centre. A walk to St. Stephen's Cathedral takes less than a minute - you don't even have to cross a street. The underground station is even closer!
Directly next to St. Stephen's Cathedal
Nearly all famous sights are within walking distance. Around the corner you will find the Kärntner Straße – one of the favourite shopping miles in Vienna. The Opera house, Albertina museeum and the grand boulevard Ringstraße are just a stones' throw away.
If you are getting hungry after an extensive sightseeing-tour, a lot of restaurants and cafés are awaiting you in the many narrow alleys around. A supermarket is located in the same building as the bed and breakfast.
Your central guesthouse in the heart of Vienna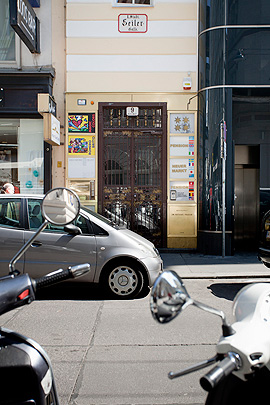 Our address:
Pension Neuer Markt
Seilergasse 9
1010 Wien
The entrance of our bed and breakfast is inconspicuous. After we aren't a hotel, we don't have our own entrance hall. We share the entrance of the apartment building with all the other residents here.
Please ring the bell at the entrance and it will be opened by our receptionist immediately.
Please don't be alienated finding yourself in a marble staircase. Take the elevator to the 2nd floor.
There you will find our reception team ready to welcome you!
Public transport close to Pension Neuer Markt
Station "Stephansplatz"
Underground line U1, U3
Bus 3A Plankengasse

Would you like to use the public transport? Find help here: Online-time table
You can find your ideal travelling route, arrival and departure times, ticket fees and train changes. Our receptionists will be happy to help you too!
Imprint
Pension Neuer Markt
Seilergasse 9
1010 Wien
neuermarkt@hotelpension.at
www.hotelpension.at
Phone: +43 1 512 23 16
Fax: +43 1 513 91 05
Information E-Commerce-Law
Disclaimer
Liability for content
The content of our pages was created with the greatest of care. However, we assume no liability for the correctness, completeness, and topicality of the content. As a service provider we are responsible for our own information on these pages according to generally applicable laws. However, service providers are not obliged to monitor information transferred or saved from third parties nor search for possible circumstances that could indicate unlawful activities. Obligations for the removal or barring of the use of information in accordance with legal regulations remain unaffected. Any liability relating to this applies only subsequent to actual notification regarding a concrete legal violation. Should any violations become known, the related content will be removed immediately.
Liability for links
Our site contains links to third-party websites, upon whose contents we do not have influence. Therefore, we do not accept liability for third-party content. The respective operator of the website in question is responsible for the content of the pages to which we have created links. The linked pages were reviewed for possible legal violations when the links were created. Illegal content was not detected at the time links were set. Permanent monitoring of the content of the linked pages is not feasible without concrete evidence of unlawful content. Should any infringement occur, such content will be removed immediately.
Google Analytics
This website uses Google Analytics, a web analytics service provided by Google, Inc. ("Google"). Google Analytics uses "cookies", which are text files placed on your computer, to help the website analyze how users use the site. The information generated by the cookie about your use of the website (including your IP address) will be transmitted to and stored by Google on servers in the United States. Google will use this information for the purpose of evaluating your use of the website, compiling reports on website activity for website operators and providing other services relating to website activity and internet usage. Google may also transfer this information to third parties where required to do so by law, or where such third parties process the information on Google's behalf. You can find more information about Google Analytics on the Internet at www.google.com/analytics
Data privacy declaration for the use of Google +1
Collection and sharing of information: The Google +1 button is a way for you to share information publicly with the world. The Google +1 button helps you and others receive personalized content from Google and its partners. The fact that you +1'd something will be recorded by Google, along with information about the page you were viewing when you clicked on the +1 button. Your +1's may appear to others as an annotation with your profile name and photo in Google services (such as in search results or on your Google Profile, or elsewhere on websites and ads on the Internet. Google will record information about your +1 activity in order to provide you and other users with a better experience on Google services. In order to use the Google +1 button, you need to have a public Google Profile visible to the world, which at a minimum includes the name you chose for the profile. That name will be used across Google services and in some cases it may replace another name you've used when sharing content under your Google Account. Google may display your Google Profile identity to people who have your email address or other identifying information. Use of information collected: In addition to the above-described uses, the information you provide to us is used subject to Google's main Privacy Policy. Google may share aggregate statistics related to users' +1 activity with the public, our users, and partners, such as publishers, advertisers, or connected sites. Source: Google +1 privacy policy
Data privacy declaration for the use of Facebok plugins ("Like" button)
Our website integrates the use of plugins from the Facebook social network, 1601 South California Avenue, Palo Alto, CA 94304, USA. Facebook plugins can be recognized by the Facebook logo as well as by the "Like" button on our site. An overview of Facebook plugins can be found here: developers.facebook.com/docs/plugins/. When you visit our site, the Plugin establishes a direct connection between your browser and the Facebook server. By means of this, Facebook receives information that you have visited our site from your IP address. If you click on the Facebook "Like" button while you are logged into your Facebook account, you can link the content of our pages to your Facebook profile. This allows Facebook to record your visit to our website in your user account. We wish to draw your attention to the fact that we, as operators of this website, have no knowledge of the content of data transmitted to Facebook or of Facebook's use thereof. Additional information pertinent to this can be found in Facebook's own privacy policy, which can be found at en-en.facebook.com/policy.php If you prefer that Facebook not record your visit to our website on your Facebook user account, please log out of your Facebook account. Source: Facebook privacy policy
Data privacy declaratin for the use of Twitter
Functions of the Twitter service are integrated in our site. These functions are being offered by Twitter, Inc. (795 Folsom St., Suite 600, San Francisco, CA 94107, USA). The use of Twitter and the "Re-Tweet" function links the websites you visit with your Twitter account and makes this information available to other users. Data is transferred to Twitter in the process.
We wish to make you aware that we as a provider of the pages have no knowledge of the content of the transferred data or of its use by Twitter. You can find more information about the data privacy declaration of Twitter at twitter.com/privacy. You can change your data privacy settings at Twitter in the account settings at twitter.com/account/settings. Source: Twitter privacy policy
Mandatory information
Mandatory information according to the Regulation (EU) No 524/2013 of the European Parliament and of the Council:
Follow this link to the website of the European Commission's entity for online dispute resolution for consumer disputes: http://ec.europa.eu/consumers/odr/- further information is expected to be available there from 15 February 2016. Should you have any initial questions concerning a potential dispute resolution, please email us at office@hotelpension.at.